About Us
Southern California is the largest and most competitive food service center in the nation. Hotels, restaurants and other local food service institutions are faced with the ongoing challenge of retaining existing customerswhile attracting new ones. To accomplish this, the food service industry needs a distributor that can provide more than just the basic products at standard prices. They need a company with full service capabilities, a company that accommodates special orders, a company that makes freshness and quality paramount in all they do, a company that believes service to the customer is the most important part of doing business. That company is Goldberg and Solovy. It's the hard work and dedication of President - Earl Goldberg, Vice-President - Martin Pine, and that of their employees that has made Goldberg & Solovy prosper and grow into one of the top 50 broad line distributors in the United States. The company was also named as one of the Los Angeles Business Journal's 100 Fastest Growing Companies in 1997.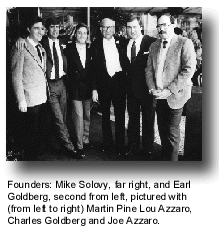 Goldberg & Solovy has always been a federally inspected facility - sanitation, quality, and service are the cornerstones of the business. The entire Goldberg and Solovy building is under continuous USDA inspection with on-site USDA inspectors checking all products and shipments 24 hours a day. Seafood, poultry, and beef are stored and processed in separate areas. When an order comes in from a restaurant stating the item and type of cut, it is processed that day, shipped that night, and arrives at the restaurant the next morning. Bulk fish is de-boned and filleted; chicken is boned and portioned; and beef is aged and cut to order. The warehouse boasts state-of-the-art amenities, including a refrigerated dock and freezers and coolers able to hold millions of pounds of food. All storage rooms at Goldberg and Solovy have an alarm system in case temperatures are not in safe ranges. Processing and warehouse facilities are constantly cleaned and sanitized. Every day the company goes to great lengths and expense to comply with the Hazard Analysis Critical Control Point (HACCP) legislation. The HACCP system is one of the many steps the government and the meat industry have taken to further enhance the safety of today's meat products. Meat, poultry, and fish plants must examine the way they make their product, determine where problems are likely to occur and take adequate steps to prevent those problems from actually happening.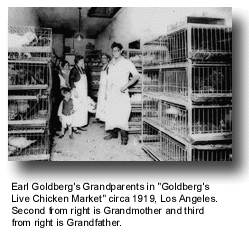 Established in 1974 by Mike Solovy and Earl Goldberg, Goldberg and Solovy Foods, Inc., is a broad line institutional food service distributor - one of the largest food distribution companies in Southern California. The company provides the Southland's food service industry with a full line of products, including fresh meat, pork, seafood, poultry, canned foods, frozen foods, paper goods, imported cheese, disposables, small wares, and equipment. Originally a fresh and frozen center of the plate (protein) distributor, Goldberg and Solovy gradually added dry grocery goods and increased the volume of protein items to broaden their market. The addition of food categories, equipment, supplies, and increased food production has made Goldberg and Solovy both a niche supplier and a broad liner, a unique distinction in food service today.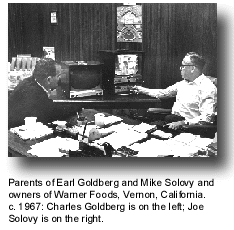 Goldberg and Solovy's roots can be traced back to 1919, when Earl Goldberg's grandfather opened "Goldberg's Live Chicken Market Los Angeles" and Mike Solovy's grandparents started a "Live Poultry Market" in Boyle Heights. Earl's father; Charles, and Mike's father; Joe, longtime friends, entered into the food distribution business when they purchased Warner Poultry (later Warner Foods) in the late 1940's in Pasadena. In 1952, they moved the company to the city of Vernon.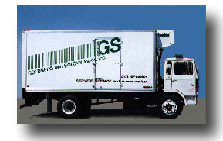 Earl Goldberg and Mike Solovy went to work for Warner Foods in 1963. Warner Foods Partners, Charles Goldberg, Joe Solovy, Hal Michaels and Sam Dubin sold the company in 1969. Early in 1974, Mike Solovy started Mike Solovy Foods; a few months later Earl Goldberg joined him and Goldberg and Solovy Foods Inc. was formed. Joe Azzaro & Lou Azzaro joined the company as partners later that year. Armed with plenty of experience and industry contacts but little in the way of inventory or warehouse space, the founders managed to guide Goldberg and Solovy foods, Inc. to sales of $9 million in the company's first year of existence. Space, employees, and trucks were initially provided by U.S. Growers Cold Storage in the city of Vernon, and in 1977 Goldberg and Solovy took out a long-term lease on their own plant. By 1987, Goldberg and Solovy had outgrown their facility, and after securing an Industrial Development Bond, they built in Vernon, the most modern food distribution and processing plant in Southern California. With more than 1.5 million cubic feet of space, Goldberg and Solovy's facility is large enough to store over 12,000 items. The warehouse is busy 24 hours a day servicing thousands of accounts six days a week. In 1999, Earl Goldberg, President, became the major shareholder and Martin Pine, Vice President, the largest minority shareholder.